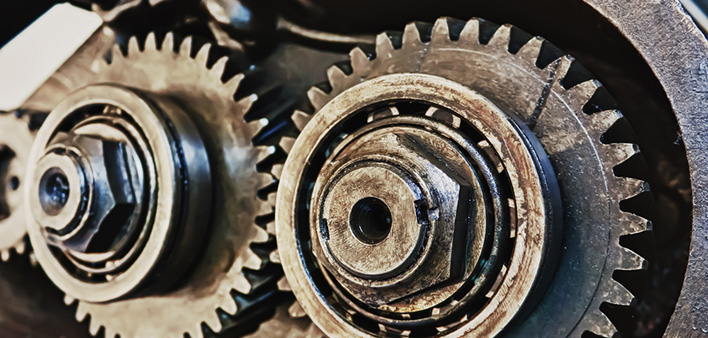 Industrial gear oils have been developed for high-performance gear systems in industrial machinery and equipments. Using different base oils, gear oils are produced for a variety of industrial applications, starting with general mineral gear oils, such as CLP ISO VG 68, to ISO VG 680 or even ISO VG 1000 for stressed conditions or specially designed gears for machining equipment, and gear oil from PAO (phenolphthaleins), synthetic esters, PAG (very hygroscopic) or other base fluids. Today's gearboxes are typically smaller and are made from newer, lighter materials than before. However, these smaller, lighter pieces of equipment are pushed to produce more power and, at the same time, have to be more durable and more reliable than those produced before. Lubrita gear Oils category Products are formulated to meet and exceed latest Standards.
Lubrita offer industrial gear oils of CLP series starts from ISO VG 68, ISO VG 100, ISO VG 150, ISO VG 220, ISO VG 320, ISO VG 460, ISO VG 680, ISO VG 1000 are formulated with high-quality refined base stocks in combination with a unique EP (Extreme Pressure) additives technology to meet the specifications of AGMA (American Gear Manufacturers Association), David Brown (David Brown offers an extensive range of gears and transmissions for all stages of oil, gas and petrochemical processes), AISE (Association for Iron and Steel Engineers), FAG Industrial Gears (part of Schrieffer Group), Cincinnati Gearing Systems and others. The AGMA has been involved in setting national gearing standards since 1916 and serves as the focal point within the United States for the development of ISO gearing standards. Lubrita CLP industrial products are premium-quality, extreme-pressure gear oils that reduce friction and wear, protect gears against rust and corrosion, dissipate heat, help prevent scoring and welding and, at the same time, keep the gear system clean.

Multipurpose High Quality Base Gear Lubricants (Mineral based, PAO based synthetic oils, PAG ...):
Lubrita gear lubricants provide excellent protection against high loads, high demulsyfication, excellent anti-wear, anti-foam and anti corrosion properties and prevent damage on tooth and friction surfaces. The advanced Lubrita lubricant formulation and the quality of Lubrita oils - protect today's gears and ensure that equipment operates at higher efficiency. Lubrita's industrial gear lube product range is characterized by the high quality of the base oil and additives used, with lubrication protection and durability ensuring excellent performance. Contact Us for more information about our wide range of products at info@lubrita.com. Find below our Variety of Industrial Gear oils and also check diifferent Lubrita oils categories.